ABOUT
The New VolCorp…
The new VolCorp is more than a new logo and change in color scheme. It's a partnership…
It's VolCorp Like Never Before!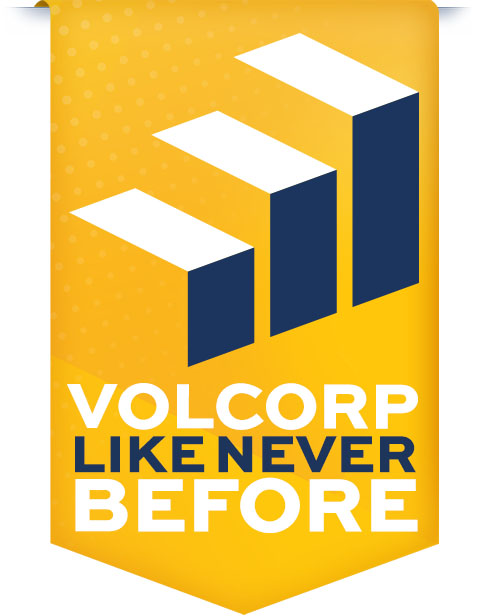 Experience partnership like never before.
VolCorp has proudly served the credit union movement for more than 40 years. And we're just getting started.
As we look to the future, members and non-members alike will see a new VolCorp. More agile. More adaptive. Not just working with credit unions, but inspiring them to reach new heights.
It's more than a new logo. More than a change in color scheme. It's a partnership…like never before!
What are VolCorp members saying?

"They have never let us down and always have our back."
"We've got you." "We're with you." "We're on your side." These words say you are not alone. You have someone in your corner. Whatever happens, you have an ally.
VolCorp has the backs of its members. We are here to support and help credit unions grow and better serve their members. Need someone in your corner?
VolCorp has your back.

"VolCorp is my go-to group."
Football teams always have that one player who can be counted on to score, particularly at a crucial time in the game. They know when the chips are down, they can turn to that player.
It's the same way with VolCorp. Whether it's a normal, every-day situation, or it's crunch time, VolCorp members know they can rely on us to come through for them.
Does your credit union need a new go-to group?

"I really appreciate our relationship with VolCorp that spans over 25 years."
Research shows that one of the benefits to a long-term relationship is that it can relieve stress. Knowing you have someone who is always in your corner gives you peace of mind.
VolCorp specializes in long-term relationships with its members. See how a partnership with VolCorp can give you and your credit union peace of mind.

"I can trust them as a partner, and this is invaluable to our credit union."
What is the difference between and vendor and a partner? A vendor offers something for sale. A partner works with you and helps you achieve your goals.
At VolCorp, our members are our partners. We succeed when our members succeed.
Ready to see how valuable a partnership can be with VolCorp?

More from our members…
"VolCorp understands the credit union industry better than any other vendor we have."
"The trust that VolCorp has earned with me for more than eight years of membership with VolCorp. I trust VolCorp…VolCorp has ALWAYS done what they said they would do."
"Convenient investment services and monthly information for Bonds is another excellent value."

What one word or phrase would you use to describe your relationship with VolCorp?
Become a Partner
For more information about how we can help your credit union, contact us! One of our representatives will get back to you shortly.